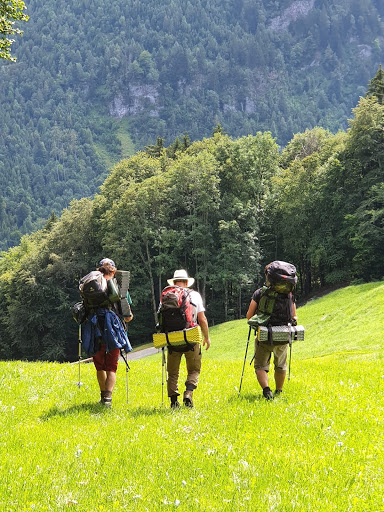 What?
Take an active break in nature and experience …
Companionship - fantastic landscapes - learn about guidance and group dynamics - personal development - cooking on the bonfire - sleeping in the outdoors - exciting encounters with colleagues of yours
We will dive into the topics of systemic leadership, guidance and group dynamics by using experience based and interactive methods. On the fly, you will learn basic outdoor skills such that we can enjoy a fun and somewhat luxurious time in nature together, e.g. how to set up a tarp to sleep below. After all, we will gain useful skills and insights that can be incorporated into everyday life, where you are constantly leading and being led by friends, partners, students, supervisors, and so on.
When and where?
Start: Friday, July 23, 16:30 Sarnen Bahnhof, location may change due to weather forecast, will be announced 2 days before start, you will need to take a train from Zurich HB at roughly 15:00. End: Sunday, July 25, roughly 15:00
We will sleep at a nice place in the forest and do between 1 and 2 hours of hiking each day.
What to bring?
Items marked with a * can be cheaply rented from Flo.
Big backpack, which has some space for group material and food additionally to your personal items.
Sleeping room: sleeping pad, warm enough sleeping bag, (Sleeping bag warmth upgrade)
Clothes: Suitable for the temperature and weather, rain jacket, clothes should also be suitable for sitting at the bonfire. Long trousers protect against ticks.
Trekking boots: Comfortable for 1-2 hours walking/hiking per day
Hygiene articles (like Toothbrush, Sanitizer, toilet paper, small towel, …)
Sun Protections (hat, glasses, sunscreen)
Headlamp, pocketknife, lighter
Drinking bottle, Cup, plate, spoon
Tarp (if you have one)
Something to take notes
Other things for a fun time in nature
Z-lites (pads to sit on) and enough tarps will be provided. Food: We go shopping together and cook and celebrate meals around the bonfire.
Registration?
Participation fee 180 CHF. Please sign-up Please sign-up by sending an Email "I'm in for leadership in the outdoors!" to flomeier90@gmail.com
Who can participate?
D-INFK members and people interested in the scientific excellence and well-being initiative Min 4 participants, max 10 participants