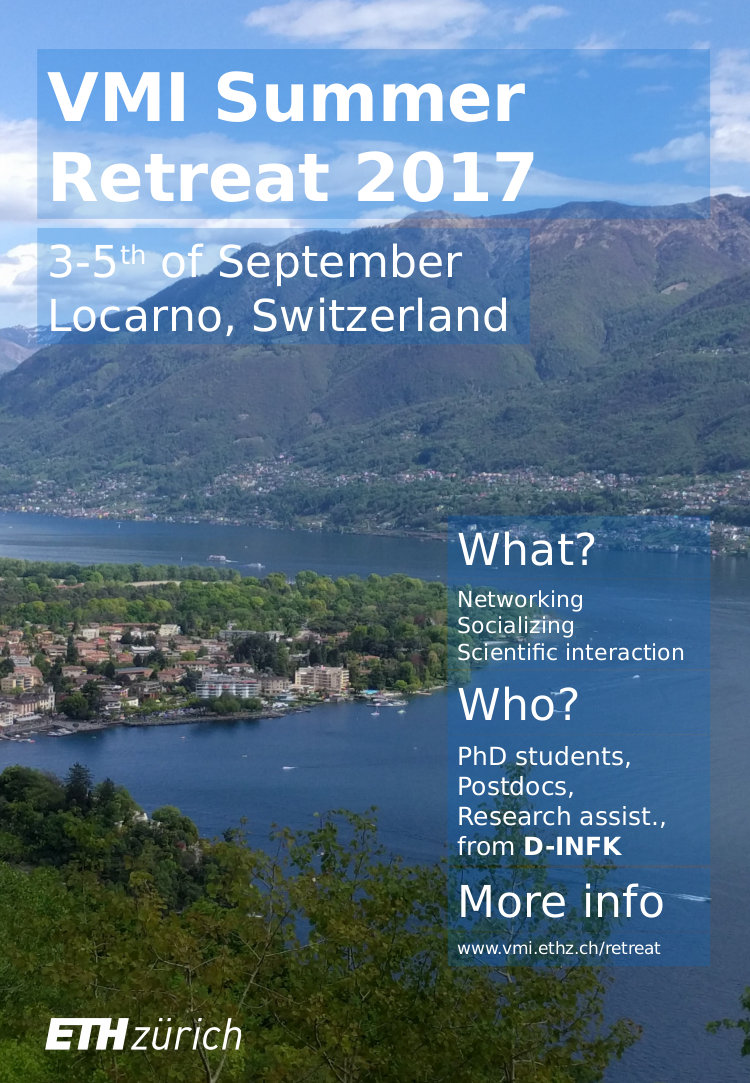 Our highly anticipated Summer Retreat is back! This time, in beautiful Locarno, Switzerland.
When and where?
3rd (Sunday) to 5th (Tuesday) of September 2017. We will stay at the heart of Locarno, a small town on the shore of Lago Maggiore, and the warmest place in Switzerland. This location provides for excellent opportunities to swim in the lake, to explore Locarno's old town and the Sacred Mount Madonna del Sasso, to take a gondola up to Mount Cardada for great views of the region, and to hike in the nearby Verzasca valley with its pristine emerald-colored river.
Who can participate?
All members of the scientific staff of the D-INFK department (PhD students, postdocs, research assistants, oberassistent etc.). We have a limited capacity of 26 participants.
The last day to register and pay the participation fee of CHF 40 is July 31st.
Sign up here!
(You may also register via email)
What?
We will stay in Locarno for three days. The goal is to get to know each other, to extend the scientific network within our department, and and have a great time. Here's a draft of the schedule.
Sunday, September 3.

We take the train from Zurich at 8am, arriving in Locarno just in time to catch a short glimpse of the town before lunch.

We then begin with the first part of the scientific program, which includes short presentations by each participant on his or her topic of research.

Afterwards, you will have free time to relax before dinner. We will conclude the day with some social activities in the evening.

Monday, September 4.

This is your day off — we'll get out of town and enjoy the outdoors nearby Locarno. We plan to go for an easy hike along the Verzasca river, and have a picnic at one of its beautiful pools. If there is interest, we may also split up and offer a more challenging hike.

This day is a great opportunity to get to know your colleagues. In addition, you will have the chance to discuss the research topics from the presentations that you find particularly interesting and relavant to your own work.

We will have dinner outside the hostel.

Tuesday, September 5.

The time after breakfast and before lunch is allocated for several workshop-style Master Classes implemented in small groups. The point of these is to give a more in-depth introduction to certain topics, tools, or techniques than in the short talks on Day 1.

In addition, we may participate in «lightning talks» which can cover virtually any topic — for instance, a cool paper that you stumbled upon or that new shiny slideshow tool that you just found out about.

We will be done with the scientific program (and the official part of the retreat) around noon. You can plan the rest of the day for yourself. For instance, take your new friends for a walk and sightseeing in Locarno, go for some more hiking, or simply chill by the lake side. There is a train to Zurich every half and hour.
If you have any suggestions or requests regarding the schedule please contact us. We will keep you updated on the concrete topics of the Master Classes.
Cost
It costs 40 CHF to participate. Everything is included: transportation, accommodation and food (except for alcoholic beverages and lunch/dinner on Tuesday).
This retreat is fully supported by the department. You will not need to take vacation days to attend. But you should let your supervisor know that you would like to attend.
Contact
Questions? Please contact us at vmi-contact@lists.inf.ethz.ch