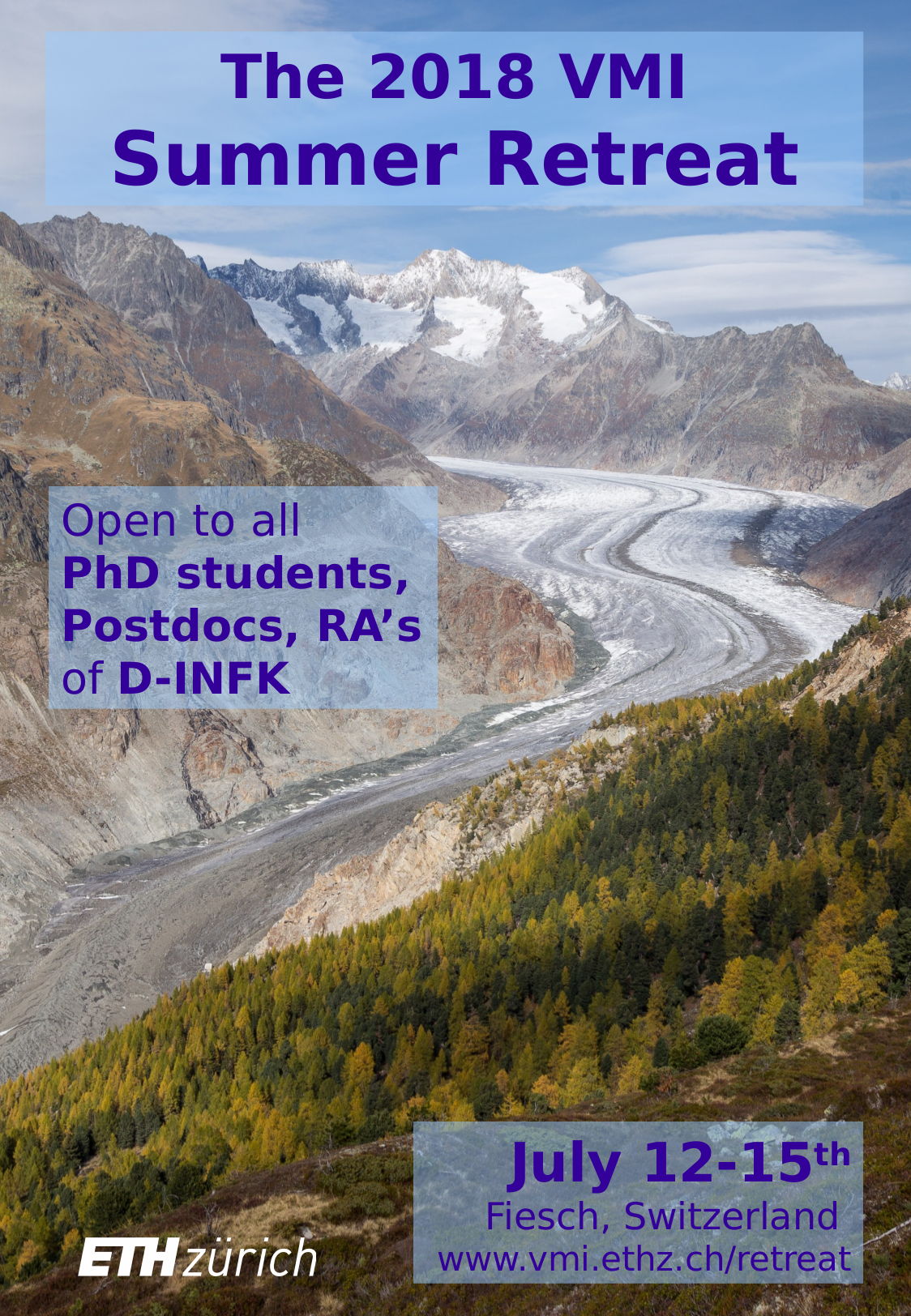 The VMI Summer Retreat is back! This time, in awe-inspiring Fiesch, Switzerland. We are looking forward to great scientific exchange, networking and socializing!
When and where?
12th (Thursday) to either 14th (Saturday) or 15th (Sunday) of July 2018. This year, participants can individually choose to extend the three day retreat to four days. We will stay at Fiesch, a small town in the southern Swiss canton of Valais. This location allows for a wide range of activities, ranging from strolls in the nearby nature park Binntal and small Swiss mountain villages, to mineral excursions, hot springs with an alpine view, and hikes in the Aletsch arena, providing the best views on Europe's highest peaks and largest glacier. Our accommodation and venue for the scientific program is the Sport Resort Fiesch.
Who can participate?
All members of the scientific staff of the D-INFK department (PhD students, postdocs, research assistants, oberassistent etc.). You do not need to be a VMI member. We want to make this event family friendly; send us an email for further details.
There are only 30 spots, so sign up soon:
Sign up here!
What?
We will stay in Fiesch for three or four days. The goal is to get to know each other, to extend the scientific network within our department, and to have a great time.
We will have a scientific program, social activities and leisure time. We will continue last years highly successful Master Classes (in-depth and interactive presentations), now called Open Talks. They can be up to an hour, but we are also looking for shorter talks (15 minutes, including Q&A). Topics can be technical, but we also look for non-technical sessions, e.g., focused on teaching, efficient time management, student supervision, research methodology, etc. We encourage interactive formats, such as discussions and round tables. We will also try out 'scientific speed dating', in very small groups. Rather than presenting your research in front of a large audience, you can explain it to just a few participants, responding to questions on a more individual basis. Lastly, we are looking for new formats for scientific exchange. If you have an idea, let us know!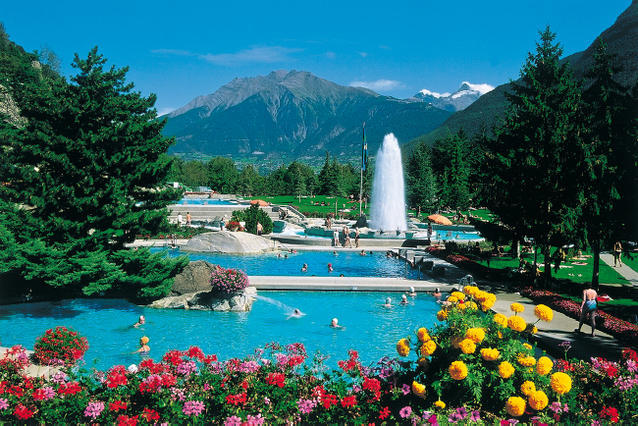 On Friday we will do a longer excursion, most likely to the Aletsch Arena. We split up into groups: You can do a short hike to enjoy the views. If you are an avid hiker, you can join a guided glacier hike tour on the Aletsch Glacier. Don't worry if you don't like hiking, there will be a group that simply takes the gondolas up and enjoys a lunch with spectacular views. Afterwards you can head to the hot springs (Thermalbad Brigerbad, see photo) in the valley.
We wish to emphasize that an active participation in the scientific program will be required. The optional fourth day (Sunday) is entirely free — participants can team up, and do what they feel like.
Thursday, July 12.

We take the train from Zurich at 9am, arriving in Fiesch just in time for lunch.

After a short introduction round, we begin with the first part of the scientific program. Before dinner, you will have free time to relax or explore the resort's many facilities (swimming pool, tennis, badminton, sauna, etc). We will conclude the day with some social activities in the evening.

Friday, July 13.

This is our day off — we will have time for a full day excursion. As explained above, we split up into different groups, depending on interest. This day is a great opportunity to get to know others in the department. We will have dinner together.

Saturday, July 14.

After breakfast we will have several workshop-style Open Talks implemented in small groups. The point of these is to give an in-depth introduction to certain topics, tools, or techniques.

There will be a long break over lunch that you can use freely.

In the afternoon, we will continue with more Open Talks and conclude just before dinner. This marks the end of the official part of the retreat — if you prefer to leave Saturday, you can head to Zurich at around 5pm and expect to be back at 8pm (or a bit later, if you join us for dinner). Trains leave every half hour. If you have the time, we encourage you to stay until Sunday.

Sunday, July 15. Free time! Go enjoy the day with other participants in whichever way you like. We will distribute individual train tickets for the trip back to Zurich, so you can choose your departure time. Here are some ideas:
Cost
The retreat is mostly sponsored by the department, so we only ask for a 40 CHF contribution. Everything is included: transportation, activities, accommodation and food. The exceptions are: alcoholic beverages as well as all activities, lunch and dinner on Sunday.
This retreat is fully supported by the department. You will not need to take vacation days to attend. But you should let your supervisor know that you would like to attend.
Contact
Questions? Please contact us at vmi-contact@lists.inf.ethz.ch
Aletsch Glacier: Wikimedia Commons, JoachimKohlerBremen, CC-BY-SA 4.0
Thermalbad Brigerbad: Wikimedia Commons, Hans Kalbermatten Thermalbad AG, CC-BY-SA 3.0
Basilique Notre-Dame de Valère in Sion: Валерий Дед, CC-BY 3.0